Mini Vinnies - Society of St Vincent de Paul
Minnie Vinnies
These are all our enthusiastic and motivated Mini Vinnies.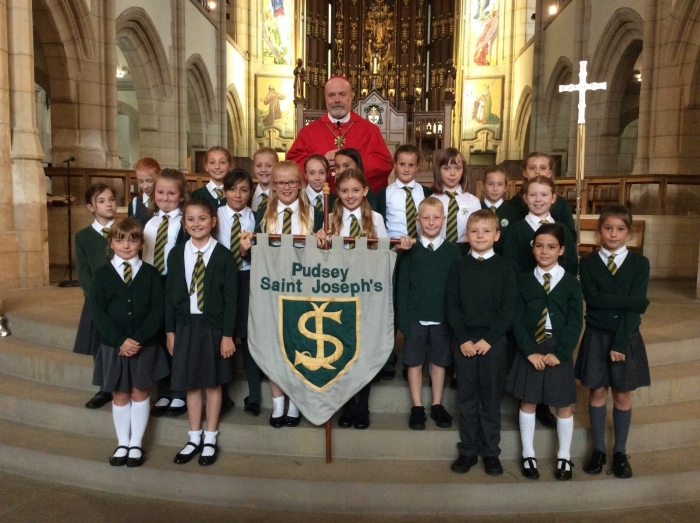 Commissioning Ceremony
On 14 September 2018, all the Mini Vinnies attended and participated in a special commissioning ceremony and mass at Leeds Cathedral. Bishop Marcus led the mass and re-commissioned our existing Mini Vinnies and commissioned our youngest Mini Vinnies to begin their role.
'Mini Vinnies' are children in Year 4 and above who, with the permission of their parents and the support of their School, are encouraged to embark on their first steps as possible 'Vincentians for life'.
Those wishing to become a Mini Vinnie are invited to apply in school and state how they would carry out good deeds in the community.
Mini Vinnies is about doing good works in the community. The Vinnies model of 'See, Think, Do' is a great way to get young people thinking and talking about their spirituality; by connecting their beliefs and values with service activities and issues in their community, they can help to make their faith real, meaningful and relevant.
'Our Mini Vinnies' group will meet regularly during lunchtime and are always busy planning on how they can reach out to the people in need in our community. Over the past few years our dedicated Mini Vinnies have organised different fundraising events to raise money for The Good Shepherd Appeal during Lent and have collected Food for the Leeds Food Bank. We also help the staff in improving things in our school and have helped in planning and setting up the school Prayer Garden.
You can learn more about what we do and how Mini Vinnies began by looking at the website…
Find out more on the St. Joseph's Pudsey website
St. Joseph's Pudsey News Stories